Whether you are a traveler or student, Panthera Sanctuary maintains the flexibility to fit your needs.
What kind of experience are you looking for?
Volunteering & Service Learning
Designed for those who do not need any prior experience in environmental conservation, this option provides the best way for individuals to experience the marvels of the Amazon Rainforest while also lending a helping hand to the reserve community in carrying out important tasks. Through experiential learning, volunteering with us at the sanctuary can also be an amazing Service-Learning Opportunity for anyone looking to apply classroom education to a real life situation while also helping us work toward our objectives. Volunteers participate in a wide array of activities which contribute to various conservation projects [See list of projects]. A vast majority of individuals visiting the reserve sign up as volunteers.
If you plan to volunteer with us, be prepared to work hard! While some activities are laid back (like birdwatching), others require a bit of physical power and endurance (such as using a machete to clear invasive weeds or transporting fresh, fertile soil to our permaculture plots). As a result of these activities, the contribution of your efforts to support the ecological preservation of a threatened region provides a classic example of eco-volunteering [What is eco-volunteering?]. There are so many benefits to being an eco-volunteer—discover the various reasons of why you should volunteer with us at Panthera Sanctuary!
Internships
Internships at the Sanctuary deal with the same projects and activities that volunteers participate in, however, they do take on a greater responsibility. In other words, rather than being constantly explained and supervised by a staff member for every task, interns will undergo proper training and learn how to properly conduct tasks independently.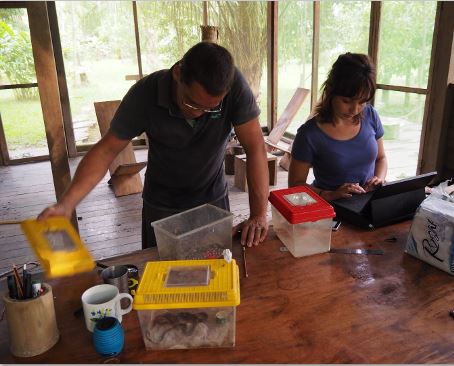 Intimidating? It shouldn't be!
Did you know that many individuals who undergo an internship with the Sanctuary were once volunteers? While there may be a high learning curve in the first week or so, routine procedures become easier and more fluid with time. Whether you are a student looking to gain academic credit through your school, or just independently looking to gain experience in the Environmental Conservation field, an internship at the sanctuary might be the best option for you! [Internships/Gaining Academic Credit]
Interested in taking an internship position with us? Contact us directly for more details!
Guest
Click here for more information about visiting the reserve as a guest
If there are any health conditions or physical ailments you may have that can affect your ability to participate in some activities, please let us know! We would be happy to adjust your activities to fit your needs.