*Covid Policy Update*:
Full payment 2 months prior to arrival not applicable during this time to provide flexibility to our guests. This also means we've adopted a payment credit system. If you cancel your stay, you are able to reschedule to whatever date you choose. Refunds currently unavailable.
Why should I pay to be a Volunteer? Where Does my Money Go?
As a fully independent entity, we do not receive any subsidies from the State or any other sources. Due to this factor, volunteer funds aid our research efforts and ongoing operations of the reserve in addition to covering activities and their own accomodations. Essentially, the contribution of our volunteers make the existence of this conservation reserve possible!
The specific breakdown of funding are provided below: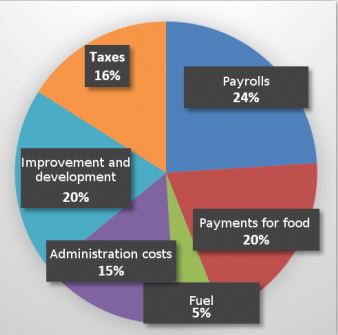 Program Fee Rates
Our program fees are set in weekly increments. To optimize your stay and ensure that you engage in a diverse amount of activities, it is highly recommended that volunteers stay for a minimum of 2 weeks
For requested stays taking place between weekly periods, email us at 
[email protected]
 for adjusted rates.
You are eligible for DISCOUNTED RATES if you meet one (or more) of the following requirements:
You are a Peruvian Citizen & Student
You are a group of 3 or more individuals
Your planned length of stay exceeds that of 4 weeks
Notice: Registration and international bank fee transfers not incorporated into Program Cost. Once properly registered, an email will be sent regarding the total amount due to the email address you provided. A $75 Registration Fee is required for signing up and securing a spot with us. Before making your payment, we ask you to consider the 5% International Bank transfer fee associated with making your transaction.
Included
The cost of the stay includes:
Accommodation
Food (3 meals a day)
Unlimited filtered/purified drinking water
Transport from the airport/bus station to the center upon arrival and departure
Tools/Supplies (shovels, rakes, machetes, etc).
Not included
Airline tickets – international and local-outings, transportation, restaurants, hotels outside our framework program in particular on weekends.
Costs arising in international transfers are at the volunteer's expense (they vary according to each organization, check with your bank).
Laundry service, personal expenses.
Travel insurance, which should include expatriate insurance, medical emergency expenses, cancellations, interruption of stay…providing a wide coverage, plus civil liability.
Visas
Vaccines
Outward and return journey (transportation) to the reserve during your weekend outings—-private water taxis can be arranged upon request for individuals who desire to leave the reserve for town (please let us know at least a day in advance)
Accommodation
You will be housed with other volunteers in dorm style bungalows conceived and adapted to life in full jungle: running water, a solar-powered dining hall, and collective use of toilet and washroom facilities (cold water only).
Private housing available upon request–additional fees apply. *Contact us for details.
Meals
A local cook will prepare you breakfast, lunch and dinner. Meals are mainly Peruvian dishes, so please remember to keep an open mind when trying new dishes and maintain a respectful attitude. Remember, you are experiencing another culture in a foreign country. Enjoy it and soak it in! 
Purified drinking water are at your disposal. Make sure to bring a durable water bottle to take with you during activities!
Work Schedule
Sunday through Thursday. Friday/Saturday are our days of rest.
More information on the reserve's work schedule
An average of 2 activities will take place each working day; one in the morning (between 8-11am), and one in the afternoon (between 2-5pm). Depending on what activity you participate in, times may shift. Night activities such as caiman/snake/amphibian monitoring are completely optional but open to anyone interested.
Recreational Activities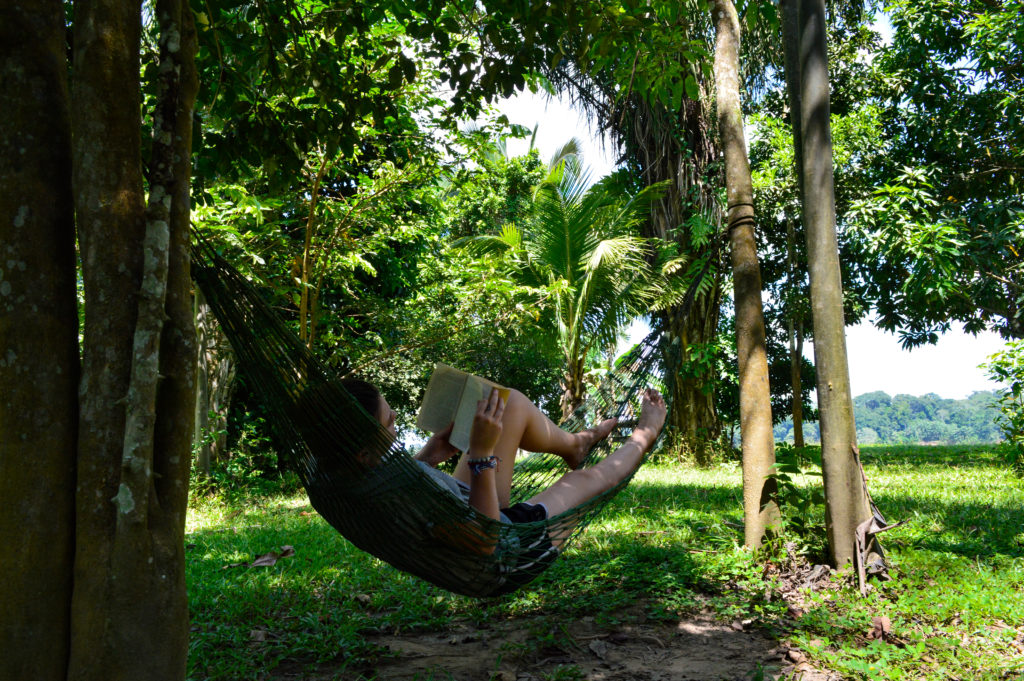 Swimming is possible in the main river or local stream near the reserve. Equipped with a modest seating area along the river front and a couple hammocks for lounging, our tropical garden is also available for relaxing. Fruit harvesting and juice making is also a common favorite.
As we previously mentioned, weekend excursions to Puerto Maldonado are optional and take place from Monday to Tuesday where you can find hotels, restaurants, cyber cafes, stores, a local market, and taxis. It is a very typical town and we can give you tips and detailed instructions upon arrival. Should you choose to leave the reserve for town, a taxi boat will be arranged to pick you up from the reserve around 8AM and take you back the following day around 3pm at your expense. Those remaining at the reserve have all their usual expenses covered.