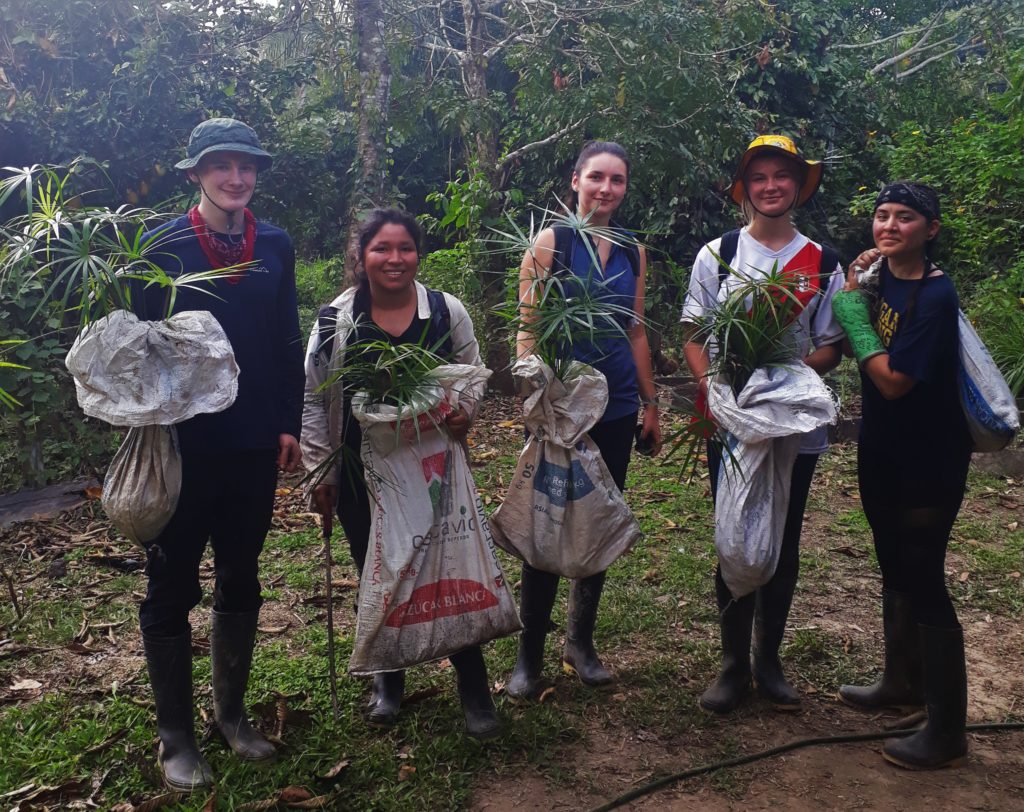 To live with us in the Amazonian forest, no particular training is needed. However, your motivation and interest in the environment are essential qualities required. All your skills and abilities will be helpful. Here at the reserve you will have the opportunity to develop both your manual and physical abilities on a daily basis in addition to broadening your intellect, specifically your sense of observation, autonomy and community life.
What Would a Typical Week Look Like?
Work Week: Sunday–Thursday
Weekend/Rest Days: Friday & Saturday
# Activities per Day: 2
Duration of each Activity: 2-4 hours
*Note: Only 1 activity will be performed per day for activities that take a longer amount of time to complete or are physically demanding (i.e. a long-distance walk, carrying heavy bags filled with plants, transporting composted soil to permaculture sites, etc.)
Sample Activities
Activities can include, but are not limited to, the following:
Trail Maintenance and Surveillance–> Locating closed off or narrow reserve trails and removing any dangerous obstacles to keep paths safe and navigable
Wildlife monitoring–>walking slowly and silently through the rainforestathering observational information to establish an inventory on rainforest fauna.
Caiman Monitoring and Data Collection–>Assist us in spotting, catching, and recording data on the 4 species of caiman residing in the area
Sustainable Development–>ecological harvesting of fallen wood for building camp structures (boat, small buildings, solar dryer, table, building supports, bridges, etc)
Herpetology Surveys–>Weekly night hikes focusing on the location of nocturnal species usually concealed in the daylight hours
Survival Skills Course–>learn how to find safe food/water. establish a functional camp, create a shelter, and orient yourself using only materials found in the rainforest!
Permaculture Gardening–>tending to our fruit/vegetable garden by weeding, watering, planting seeds and replenishing plot with fertile soil
Fruit/Vegetable/Herb Harvesting–> venture into our agroforest and other permaculture plots to collect anything that is ripe and ready to be eaten! Fruits can be made into jam, juice, or dried for preservation. Lemongrass and roots such as ginger and turmeric are used for tea or other healthy infusions. Veggies and other herbs collected in quantities are incorporated into our local dishes!
Activities you want to know more about that aren't on the list? Check out our current Projects or contact us with your inquiries!