…a series of unmistakable, magnificent footprints from none other than that of the jaguar (Scientific Name: Panthera Onca)…
The Birth of the Reserve…
For many years up until 2010, a special piece of forest was inhabited by a man and his wife, an indigenous woman and her family who came from the native tribe Ese-eja. After spending a great deal of time on their land, their desire to relocate led them to part with it, leaving everything but their essentials behind. Although they hadn't sold the land, they didn't realize what was to become of their parcel of 28-hectare rainforest. As what typically transpires in places such as these, deserted pieces of land attract the wrong kind of people—individuals who are quick to seize any opportunity to make a profit off whatever they can find. Within only a few weeks following the abandonment of the land, the forest became ridded with poachers, tree loggers, gold miners, and other individuals looking to exploit the area.
After witnessing the desecration taking place on one of the last areas of preserved forests on Earth, we decided to do something about it. After meeting with the couple and her family who'd previously owned the land, a way was organized for us to legally purchase the land from them and have it under our careful watch. After throwing out the people illegally trespassing and exploiting the land, we knew we needed to dedicate time to preserving and rehabilitating the area through extensive conservation efforts in the hopes of bringing back the rainforest to what it once was. It wasn't going to be easy, and it certainly wouldn't happen overnight. One afternoon shortly following the acquisition of the area, a series of unmistakable, magnificent footprints from none other than that of the jaguar (Scientific Name: Panthera Onca) were spotted in the mud following a narrow forest trail. Despite the cliff-side erosion from gold mining, depleted amount of wildlife from poachers, and cut/burnt forest gaps from tree logging, this courageous and mighty king of the jungle continued to persevere in the midst of it all.
It was at this point we knew this land needed to be more than just preserved—it had to serve as an interactive safe space–a SANCTUARY–for its forest dwellers to live, thrive, and multiply.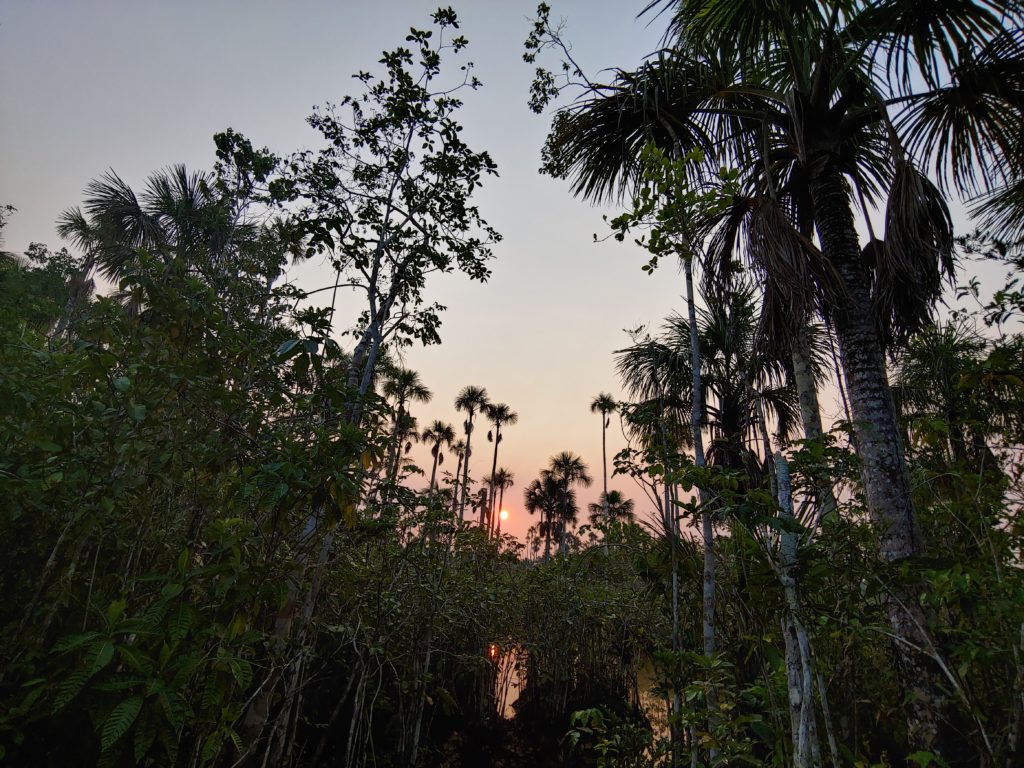 ---
Reviews
5 out of 5 stars (based on 1 review)
Highly recommended, an unforgettable experience!
I am someone who loves nature but have lived in the suburban United States for my whole life, and wanted to travel a bit and experience a removed, natural setting. So, I decided to spend 3 weeks at Panthera. I went in with no expectations, but any I might have held were entirely exceeded. While I am a young 21 years of age, my time spent in the Amazon is the greatest and most rewarding experience of my life. At first, the new environment is certainly foreign and naturally a little scary, but the Sanctuary felt like home in just a day. The staff is absolutely incredible. They are Amazonian Peruvians who have lived their whole lives in the area, so they are constantly comforting you on the harmfulness of the intimidating flora and fauna that reside there. The natural beauty there is not something that can be described in words. Never before had I witnessed first hand a place where I could feel the connectivity and communal nature of the plants and animals. You see the symbiotic relationships of the trees and ants, you hear the daily routine of the vibrant birds, and you recognize that you are the intruder of a well functioning society of beings that live and die with purpose for the jungle. I happen to speak Spanish, and that was a gift to be able to get to know the researchers better, although I was with 7 other volunteers throughout my time there and they all only spoke English or French, and they found no barriers. During the day we worked, two laborious shifts, which could be bird species identification, collecting and identifying reptiles, painting, building, hunting for tree seeds, replanting, maintaining trails, or anything else you can think of. When the sun set we typically played cards, read, journaled, and enjoyed each other's company or got solo time. The food is of healthy portions with necessary nutrients, and is all completely fresh from the surrounding area and the nearest city of Puerto Maldonado. You will not go hungry. Among the amazing environment, my biggest takeaway was my connections with other people. Between the researchers and other volunteers from all over the world, I have made lifelong friends. If you've been lucky enough to discover Panthera, I cannot recommend enough that you spend some time there, you will be ever grateful of yourself that you did.