One of the most Biodiverse places on the planet
Trek with us for a week of herping in the Amazon Rainforest–search for the evasive yet astounding reptiles and amphibians inhabiting the Madre de Dios region
February 1st-7th
7 days-6 Nights 
Reptile & Amphibian Diversity
Herping this part of the Amazon we've regularly encountered:
Giant Green Anacondas
A high density of Bushmasters
4 different kinds of caimans
Giant monkey tree frogs and their close relatives
Brightly colored coral snakes
Poison dart frogs
Shimmering rainbow boas
Some rainforest rarities also present in the area include:
The Caiman lizard
The Fringed leaf frog
Emerald tree boas
Green forest pit-vipers
Herping in the Amazon Rainforest: Experience Overview
Arrival & Transport to Panthera Sanctuary
Once you land in Puerto Maldonado and collect your luggage, head outside–we'll already be waiting for you!
We'll make our way to a local cafe for our Welcome Lunch! Food & refreshments will be served while we take the time to catch a breather and get acquainted with one another. This is also a great opportunity to relax, pick up snacks, connect to the internet, or contact loved ones to let them know you've arrived safely.
Once everyone finishes, we taxi to the river dock where our boat is parked. From there, we embark on a scenic boat ride down the Madre de Dios river to the Panthera Sanctuary Field Station.
After an hour, we finally arrive to the quiet rainforest reserve where you'll stay & where your Herping in the Amazon activities will take place [day & night]
Expeditions will vary on a day-to-day basis depending on weather conditions
Independent (non-expedition) Activities:
The reserve is not limited to guided expeditions during your stay–forest trails are open for you to explore.
After all, there's so much more to discover than just reptiles and amphibians!
Whether it's gazing at the various species of macaws soaring across the river at sunrise…
Tossing banana for the resident capuchin and squirrel monkey population eat as they sweep through the vegetation surrounding the camp…
Or fixating on a 3-toed sloth clinging to a tree as it lethargically chomps away on leaves…
Very few people find themselves truly bored here on the reserve 🙂
Whatever independent exploration you find yourself following whether it's early in the morning or late at night, fresh coffee will always be available.
Return to the City from Panthera Sanctuary
Take the morning to gather all your belongings before catching the boat back to Puerto Maldonado. Coffee and tea will be available.
We arrive to the boat dock where we disembark and taxi to the same local cafe where we will have a Farewell Brunch! This is a great time to share photos of your time at the reserve and exchange information with each other.
We will then taxi to the airport for those with flights departing in the afternoon.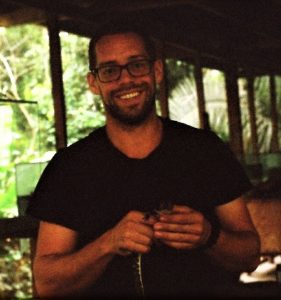 Fascinated by venomous animals for as long as he can remember, Pierre has worked extensively with them (snakes in particular) for nearly 20 years. He has lived and worked in the area for over 12 years, dedicating his life's work to rainforest conservation and reptile/amphibian management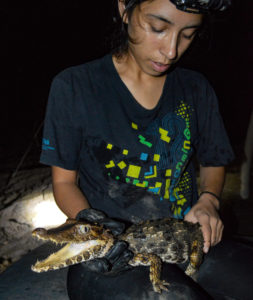 Alexandra has been living in the rainforest and managing local caiman populations for over 5 years. She is in charge of our principle herpetology projects here on the reserve, particularly in research focused around frogs. She's often found collecting data and documenting frog species of the region.
Why Search for Reptiles & Amphibians at Panthera Sanctuary's Rainforest Protection Reserve?
What makes Panthera Sanctuary so special?
Did you know that Panthera Sanctuary was initially centered around reptile/amphibian research and management practices?
Despite the addition of several other projects, herpetology remains to this day as one of the reserve's core pillars in rainforest protection.
In addition to our utmost dedication, the site contains a multitude of humid habitats including permanent ponds & seasonally flooded swamps–ideal places known to host a great diversity of herpetofauna
The reserve is secluded (accessible only by boat) and is situated near reputed protected national parks including the Bahuaje Sonene, Pampas de Heath, Tambopata, & Manu