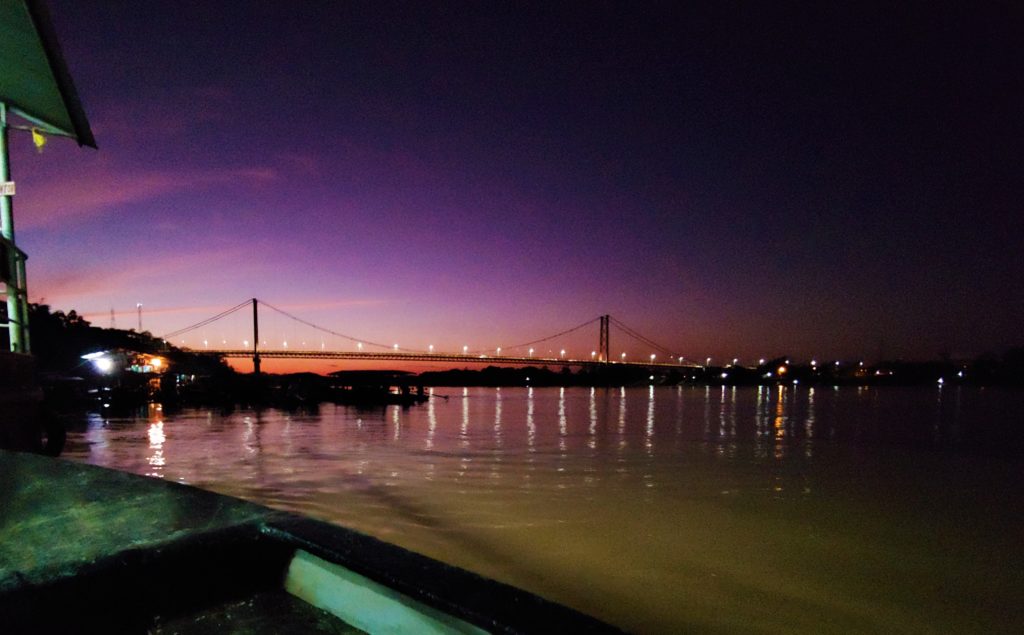 Included in Your Stay:
Transport to/from the Reserve upon arrival and departure

Taxi from airport/bus station to boat docking area AND boat transportation from boat dock to the Sanctuary

Accommodation
Food (3 meals a day) & unlimited purified drinking water
Excursions
Not Included in Your Stay:
Visas
Vaccines
Airline tickets – international and local-outings, transportation, restaurants, hotels outside our framework program in particular on weekends.
Costs arising in international transfers are at the volunteer's expense (they vary according to each organization, check with your bank).
Laundry service, personal expenses
Travel insurance, which should include expatriate insurance, medical emergency expenses, cancellations, interruption of stay…providing a wide coverage, plus civil liability.
Rooms
You will stay in elevated Rustic Wood Cabins with simple beds and well-ventilated rooms. Screen windows are used to keep out the bugs while enabling you to enjoy the beautiful sounds of the Amazon Rainforest. Mosquito bed nets are also provided in each room as an added safety. All rooms come with:
Fresh sheets & pillows
Bath towel
Soap
Blanket
Choose from a Couple Different Lodging options:
Single Room
Double Room (bunk bed)
*Only Communal restroom and shower facilities available for the time being*
---
Activities and Excursions to Choose From
Forest Education
Take a stroll through our rainforest reserve using our intricate trail systems and learn about important wildlife facts and jungle hacks. Don't be afraid to ask questions! Although general topics are routinely covered during this excursion, our guides are happy to discuss anything of interest to you in greater detail pertaining to the Amazon Rainforest. This activity is also the perfect opportunity explore the different types of ecosystems situated on the reserve while looking for wildlife scuttling across the forest floor or leaping through the canopy above.
Gamitana Stream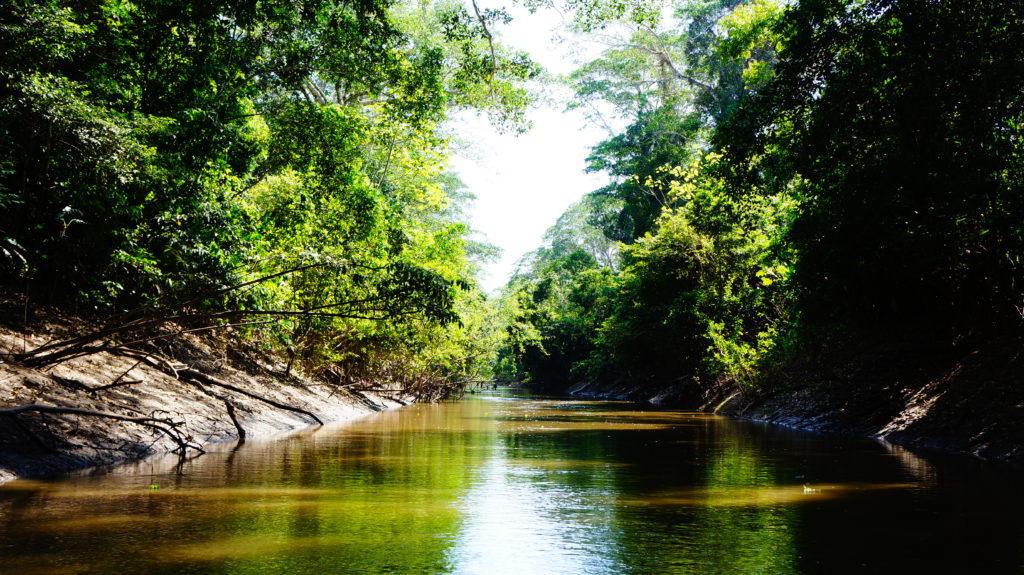 Drift down a quiet rainforest stream by canoe and soak in the sounds of nature. A wide variety of animals can be found along the stream such as numerous bird species, sloths, a few species of monkeys, and turtles. Occasionally, small caimans and snakes make an appearance as they bask idly along the shore.
Bird Watching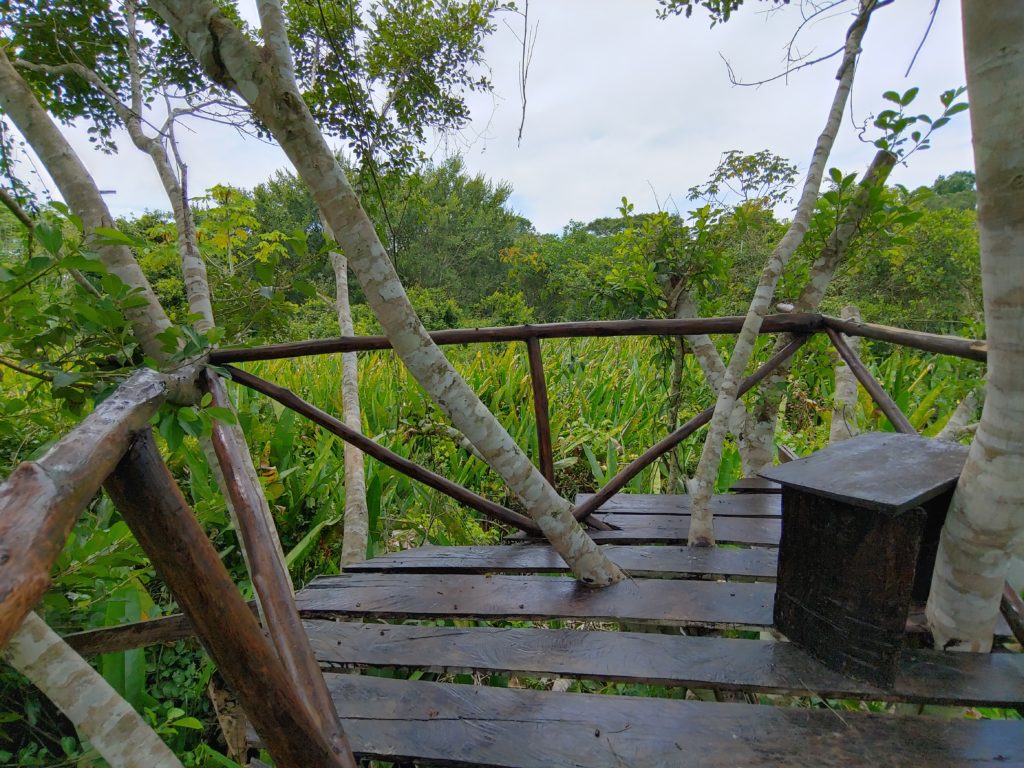 Constructed on a healthy living tree, this platform takes you high above the ground, providing you with a 360° vision of life within a large and beautiful rainforest pond and the bustling sounds of over 100 species of birds present in the area. A variety of birds come to this area to display courtship and create nesting spots. Bring binoculars and you may be able to spot the complex colors and distinguishing features of these lovely animals. Our guide knowledgeable in birds of the area will be present and will teach you how to spot and identify rainforest birds.
Organic Fruit Forest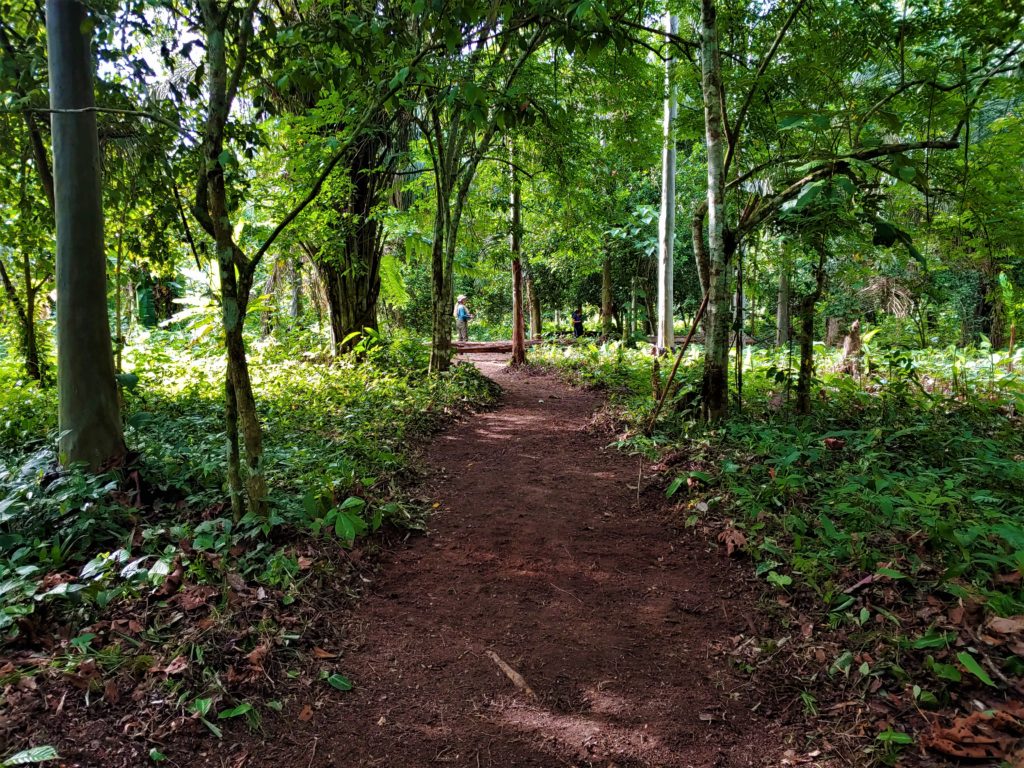 Wander through an agroecosystem where cultivated native fruit trees grow amongst rainforest trees already established in the area. Learn about our sustainable permaculture techniques used to maintain fertile soil and how we produce delicious fruit, vegetables, and herbs for kitchen use. Harvest a variety of fruits our agroforest provides (depending on their fruiting season) such as starfruit, sweet lemon, pineapple, mandarin oranges, mangoes, banana, papaya, plantains, coconut, limes, cacao, and copuazu (a close relative of the cacao). Harvested fruits can be consumed directly, dehydrated in our solar dryer, made into juices, jams, and even processed into a delicious treat! [See Below]
Cacao Workshop (available seasonally)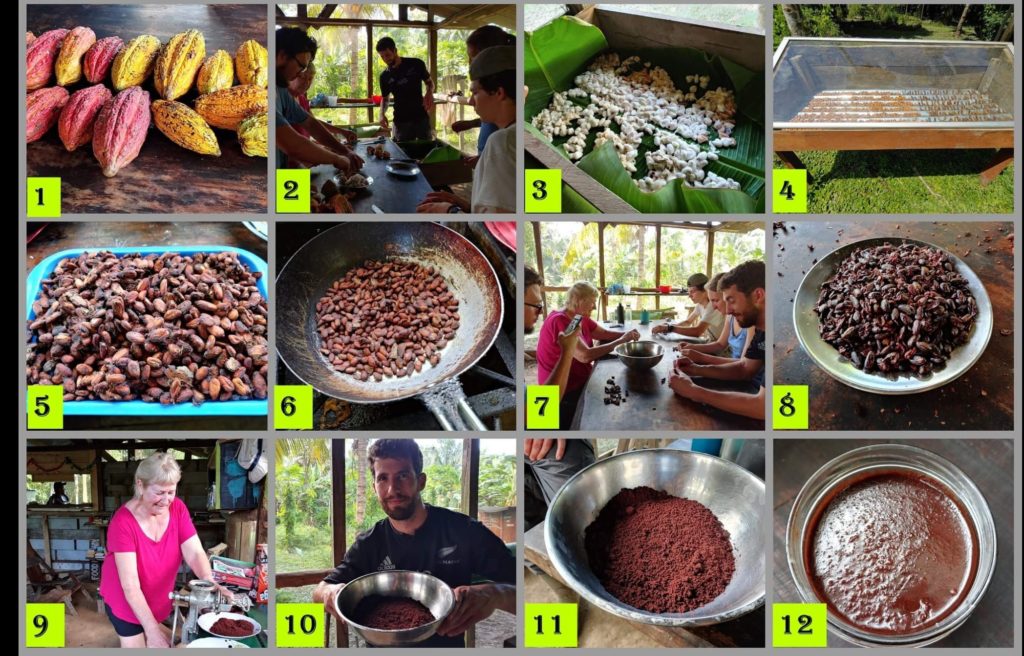 Channel your inner Chocolatier and create your very own chocolate from scratch! Pick your own fruit and prepare a batch of fresh cacao all by hand while learning about the regional process of making a sweet treat the world loves so much! In addition to Cacao, did you know that a type of chocolate can also be made from the Copuazu fruit? Participate in a great opportunity to make a different kind of chocolate from a related fruit!
Reforestation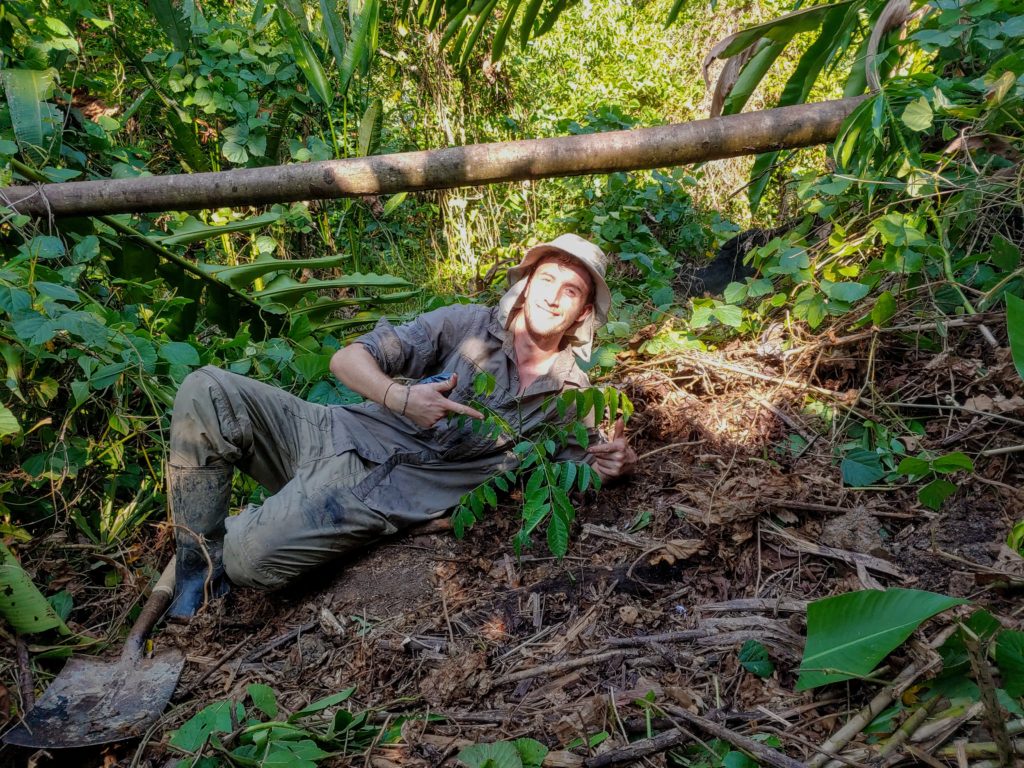 Play your part in leaving a positive impact on the Amazon Rainforest by planting tree saplings (baby trees) in areas disturbed by human activities. Areas selected to be reforested include abandoned agricultural sites and old cattle pastures. Trees include wild fruit trees, threatened hardwood species, large emergent trees that serve as nesting sites and other crucial habitats for a wide range of wildlife.
Night Walk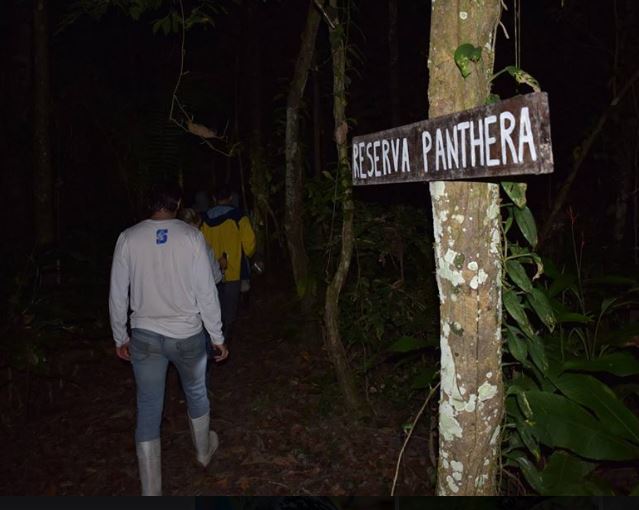 After sunset, nocturnal creatures emerge from their hideouts and embrace the dark of the night. Join us after dinner on an adventurous night hike through the reserve and observe a wide diversity of croaking frogs, nocturnal mammals such as the Noisy Night Monkey or arboreal anteater, and colorful snakes such as the rainbow boa. Small Rainforest ponds also have their own aquatic nightlife—check out the astonishing amount of fish, crabs, giant water snails, turtles and swamp eels (including the well-known electric eel) whirling around these inland forest ponds.
Caiman Monitoring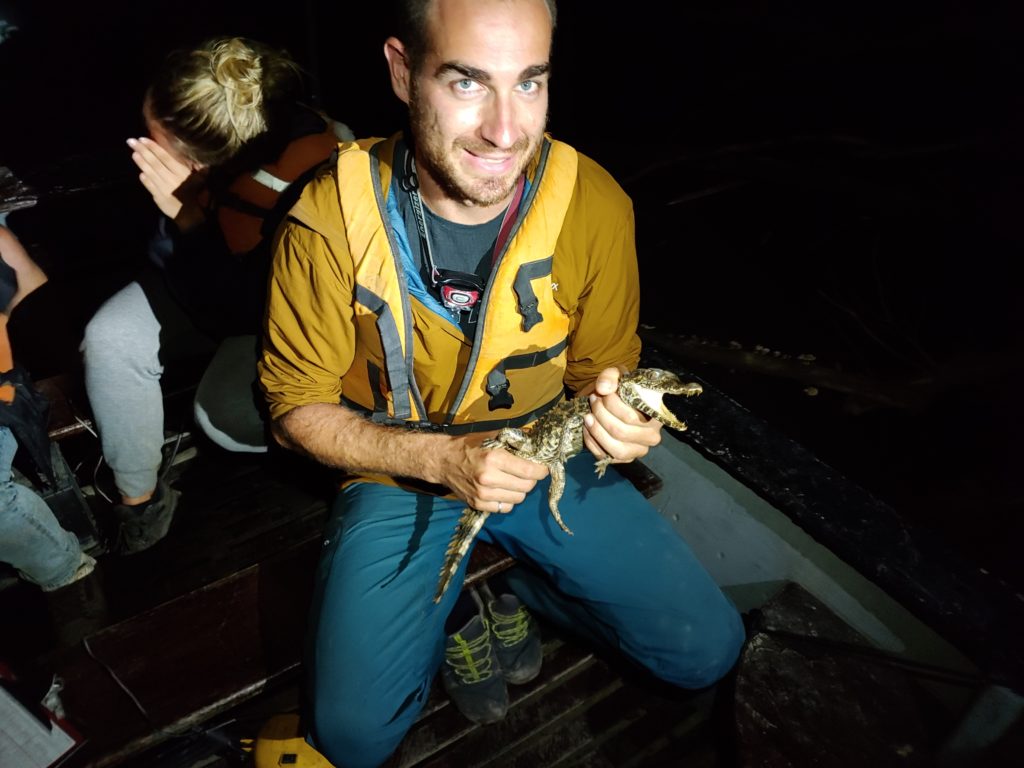 Due to the nocturnal nature of caimans, this activity begins at night after dinner. Venture along the Madre de Dios River and/or in a nearby rainforest stream by boat and search for any of the 4 species of caiman inhabiting this region of the Amazon. Caiman are also captured for data collection and safely handled by one of our caiman experts. Get up and close and personal with these modern-day dinosaurs and learn valuable facts about them as well as potential threats to their survival.
Survival Skills
This activity is designed for anyone ambitious enough to challenge themselves in the jungle by learning some essential tricks and techniques on how to survive in the wild with limited resources. Led by a guide well-trained in bushcraft, you will learn many new skills such as
how to orient yourself in a forest using a compass or GPS
how to properly mark your path to effectively backtrack your journey
how to find food (using plants)
where to find safe drinking water
constructing an effective, waterproof shelter
starting a fire (for warmth and/or cooking)
---
Reviews
5 out of 5 stars (based on 2 reviews)
Our son's mini gap year
Our son Maxime has just come back from a 3 months trip to Peru, spending the last 4 weeks with Pierre and Alex and their amazing team.
He's learnt so much in such a short period of time that, at just 18, he will never forget this incredible experience. The team was very well looked after and each day and activities were very well organised. The discovery of the wildlife in the jungle was out of this world. No Wifi meant that the free time was spent reading or playing games with others (a different way to communicate !). A special thank you to Pierre and Alex who made Maxime feel very welcome. We missed him when he was away, but he's now missing you ! All the best with your beautiful project !
Ideal stay to volunteer in absolutely beautiful environment
Where can I start!
From the moment I met Pierre and Alex in Puerto Maldonado to embarking on an hour- long boat ride to the sanctuary, I knew that I was in good hands. That's before mentioning Jess and Aldo, two great people who took us on our activities daily, and Gabriel and Jaime who both made delicious dishes (we needed the calories). I can honestly say that my 4 weeks stay here were my favourites of my trip in Peru. The environment is simply mesmerising and the atmosphere was friendly and great. I never thought that being away from civilisation for such a long time would do me so much good. As for the activities, they varied from day to day and were made to suit the sanctuary's needs. One day we would repair the main dock, on another we would venture 5 km into the jungle to a lake to take data. Once a week, we were able to go caiman monitoring with Pierre and Alex at night on the Madre de Dios river. On Friday nights, we would take part in herpetology, which involved walking around the sanctuary land at night to catch frogs and snakes (of which we caught two coral snakes) to take data and identify the species. No need then to say that the activities could be tough and sweaty but were always fun- filled and you knew a good lunch was waiting for you when you came back!
For all those reasons, I would like to thank Pierre and Alex for creating something special, Jess and Aldo for taking care of us on a daily basis and Gabriel and Jaime for feeding everyone with delicious food. Most importantly though, is the atmosphere that everyone created in the middle of the jungle. That is why I would also like to thank every volunteer who I came to meet in this great adventure!
I absolutely recommend this to everyone who is looking to volunteer and wants to make an impact.